Vidir Motorized Industrial Shelving Carousel
Product Announcement from Vidir, Inc.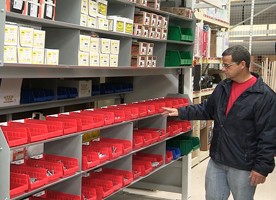 The Vidir Industrial Shelving Carousel is a modular motorized shelving unit. Utilizing all of the overhead space that conventional shelving ignores, the shelving carousel brings the product to you, eliminating the need for forklifts, ladders, or other climbing devices. This reduces workplace injuries as well as increasing your storage density, product organization, and other efficiencies.
Highly flexible and customizable, the shelving carousel can be built to fit your needs. Optional enclosures, auto-retrieval, security gates, bin configurations, and software packages make the shelving carousel an ideal fit in nearly any environment.
Features include:
Increased Security - standard password protected operation - optional enclosures, security gates and inventory control software can provide a high level of security
High Density Storage - capable of utilizing 30' of your overhead space - maximum weight capacities of 2,250 lbs. per shelf offers dense, ergonomic storage with a small footprint
Three Sprocket Construction - this configuration allows for greater customization of shelving depths and sizes
Standard Load Capacity - 1,000 lbs. per shelf is standard with the option of upgrading to our Heavy Duty model with a 2,250 lb. load capacity
Multi-Tower configurations available
---