Vidir Multi Tower Carousels, Small Footprint
Product Announcement from Vidir, Inc.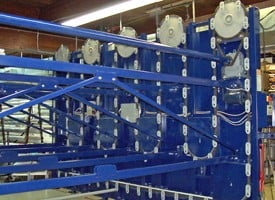 Vidir Multi-Tower Carousels offer the maximum use of space while still maintaining a relatively small footprint.We have designed and fabricated various sizes and applications of multi-tower carousels to most effectively utilize available space. Whether that means dropping the carousel in a pit with the retrieval point on the top of the carousel or building a bridged carousel which allows traffic to flow unimpeded underneath, our multi-tower configurations are designed to maximize your space potential. Multi-tower carousels have the distinct advantage over using several single-tower models in that the stored product can be presented at one common point, further maximizing space and adding considerable efficiency.
Features include:
One Person Operation - easy to operate push button controls for manual machines
Automation - utilize Vidir's API for advanced system automation and our Inventory Control System
Increased Security - security keypad to prevent unauthorized use
Space Efficient - still maintains a relatively small foot print considering its storage capacity
---