Vincotech's new flowBOOST S3 triple boosters
Featured Product from Vincotech (Germany) GmbH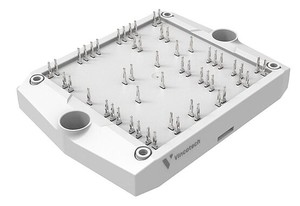 flowBOOST S3 triple boosters for solar applications
New ways to boost performance with flowBOOST S3 triple boosters – a real alternative for 1500 V solar inverters
Designers seeking to strike the right balance between cost and performance need real alternatives. That's what Vincotech's new flowBOOST S3 triple boosters are here to do. Featuring high-efficiency Flying-capacitor topology, these new boosters enable engineers to find the right design balance.
Available in a low-inductance flow S3 housing and tailored for 1500 V solar inverters, these boosters outperform their conventional counterparts and provide even greater power density for more compact, lighter systems.
Samples of the flowBOOST S3 family are available through our usual channels.
Read more about Flying-Capacitors in our Technical library, which includes several articles about solar applications.
If you want to know more about Dual Symmetric Boosters for 1500 V Solar inverters, click here.
Main benefits:
Multi-sourced components to minimize supply chain risk
Solder or Press-fit pins and pre-applied TIM to help reduce production cost
Optimized hybrid Si/SiC-based solutions with a common footprint for greater design flexibility and leading cost/performance metrics
Follow us on:
Watch>>>Vincotech - A fresh new look and feel from the company with the fresh ideas
ABOUT VINCOTECH
Vincotech is a market leader in power semiconductor modules. A group company of Mitsubishi Electric Corporation, the company excels at developing and manufacturing high-quality electronic power components for the Motion Control, Renewable Energy, and Power Supply markets. Vincotech understands customers' needs and furnishes both off-the-rack and application-specific solutions to ensure they are met.
Tapping the considerable engineering and electronics integration skills and experience of some 800 employees worldwide, the company collaborates with the customer to develop the best solution for the given application. And Vincotech's workforce embraces the principle of reliable partnership to deliver on its performance promise of speed and flexibility to customers' best benefit.