Avizo® Fire
Product Announcement from Visualization Sciences Group, Inc. (VSG)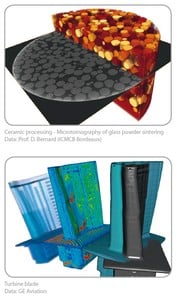 Avizo Fire offers a broad range of software tools for obtaining and visualizing advanced qualitative and quantitative information on complex materials and objects structures.
For industrial tomography, crystallography, material microstructure evolution, modality inspection for nano-structure, non destructive testing and evaluation, core sample and surface analysis, Avizo Fire delivers the whole feature set allowing researchers and engineers to see the invisible, and to understand and present their data.
Easy and immediate 3D visualization
Avizo® Fire allows the import and fusion of 2D and 3D data from multiple sources, enabling easy integration of Avizo® into data analysis workflows. High-end interactive visualization techniques gives insight into the details of properties on full 3D structures (any scale and size).
Image data processing
Avizo® Fire includes 2D and 3D image filtering modules, advanced slice alignment capability, automated or assisted segmentation with 3D surface reconstruction, allowing for phase separation, visualization, and measurement.
Quantitative analysis
Get extensive quantitative information from image data for characterizing and analyzing features at any scale. Measure properties of individual feature elements extracted from the image and synthesized statistics.
Key Features:
Image acquisition and processing
Data import from CT-scans, micro-tomography, PET, MRI, FIB,SEM and microscopy
Support for multi-data/multi-view, multi-channel, time series,large data
Scaling, calibration, conversion, re-sampling
Image enhancement, comprehensive filtering and convolution,Fourier frequency transformsImage alignment , registration, arithmetic, correlation, fusion
Image segmentation and feature extraction
Thresholding and auto-segmentation, object separation,automatic labeling

Region growing, snakes, interpolation, wrapping, smoothing
Morphological processing including watershed, basins
3D surface reconstruction and tetrahedral grid generation
Skeletonization
3D data exploration
Intuitive and high-performance 3D interaction
Direct volume rendering with real-time color/opacity mapping
Orthogonal, oblique, cylindrical, and curved slicing
Contouring and iso-surface extraction
Support for crystallography and molecular data
Measurement and analysis
Built-in measurements, including number counts, volumes,areas, perimeters, aspect ratios, and orientations
User-defined measures
Results viewer with spreadsheet tool and charting
Automatic individual feature measurements, 3D localization, and spreadsheet selection
Automated statistics, distributions graphs
Feature filtering using any measurement criterion
Geometry registration, measurements and comparison
Matlab® bridge
Pre- and post-processing for structural and flow simulations
Flexible workflow, automation, TCL scripting
Presentation, sharing and reporting
Mix images, geometric models, measurements, and simulations
Annotations, measures legends, histograms, and curves plots
Advanced key frame and object animation
Export spreadsheets, 3D models, images, and movies
---