Labor-saving technology.
Featured Product from Visumatic Industrial Products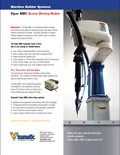 Watch>>>Viper MBC Screw Driving Assembly Robot
Assembly Technology Leaps Ahead with Launch of Viper MBC Screw Driving Robot
Automation projects that require driving fasteners quickly & accurately now have a rapid deployment package.
Visumatic has released their newest innovation - the Viper MBC. Manufacturers who assemble products are reporting great success with this new tool in labor-saving technology. The Viper MBC screw driving robot is designed to automatically deliver and install a wide range of fasteners: screws, nuts, bolts, pins, clips, brass rings, and barbed darts.
The Viper MBC system includes the reliable Visumatic Model 94 feeder, which automatically delivers each screw directly to the tooling tip. Conventional screw install robot systems are of the pick-and-place variety, in which a screw is fed to an intermediate location, where it waits for the robot to pick it up. This antiquated design requires a return trip from the work area to the pick up point for each and every screw to be installed. Feeding the screw directly to the tooling tip eliminates this travel, effectively cutting product assembly time in half.
Assembly machine builders who are strapped for time appreciate the simplicity of a complete modular screw driving package. The Viper MBC is pre-programmed so that it can be placed in position and be ready to go with minimal set up. Integrators who are not completely versed in fastener installation techniques recognize the value of its very short learning curve.
The quality control provided by the Viper MBC starts with the incorporation of a Selectively Compliant Assembly Robot Arm (SCARA). Precision assembly tasks require the robot to be stiff in the vertical direction (because it has to push things together) and a bit compliant (forgiving) in the horizontal plane, because of the imperfect relative positioning between the tooling tip and its counterpart on the assembly table. The desired selective compliance behavior is intrinsic to both the SCARA and the Visumatic end-of-arm-tooling design.
The zero offset design is a vast improvement over conventional mounting, which was located past the extreme end of the robot arm. That approach suffers from an exaggerated cantilever effect. The screw tightening torque is transferred directly to the extended joints, and the bulk of the tooling payload is magnified and applied to them as well.
The Viper MBC tooling is physically located at the end of the second SCARA joint. Joints 3 and 4 are spared the tightening forces, and the tooling weight carried by them is reduced to roughly 1/3 of the tooling mass. This moment control results in a fast motion, longer robot life, and allows proper robot sizing for the work envelope. The zero-offset design ensures repeatable assembly with reliable statistical process control and product quality assurances.
Visumatic's exclusive zero-offset design reduces technical support requirements by eliminating complex offset calculations. This simplified coordinate system makes jogging points easy and teaching new locations a snap. The Viper MBC ensures repeatable assembly with reliable statistical process control and product quality assurances.
When customers present an assembly problem that is slowing them down, is labor intensive, or more technically involved than they wish, Visumatic engineers take on the challenge. They work to develop solutions that will continuously save their clients time and money by reducing integration costs and streamlining manufacturing processes. These valuable industry-first capabilities in fastening technology are then added to Visumatic's arsenal of assembly solutions.
Re-Inventing Automated Assembly Fastening, Everyday.
Visumatic is a specialty engineering firm whose mission is to deliver easily recognizable value in every fastening solution we create. We design and build the best automated fastener feeding and driving equipment on the market for manufacturing companies doing assembly work.
Automatic nut and screwfeeding and driving systems
Applications for nuts, bolts, push pins, and plastic fasteners
All design, fabrication and quality control is done in-house
Exhaustive, controlled testing is done on every unit before it ships
We provide solutions for any automated fastening challenge
We answer challenges for our customers:
We deliver longer life cycles, extreme durability, pinpoint accuracy and the strongest guarantee in the business.
We invented the Locking Bit to make handheld assembly tasks easier.
We invented the Viper to offer a turn-key truly programmable robotic feeding and driving system.
We incorporate highly engineered ergonomics for safer, operator friendly components and greater operator acceptance.
The Visumatic Advant-edge
Our 100% Guarantee: Our systems are 100% guaranteed with a six-month unconditional guarantee, and lifetime customer service support.
Customer Specific Technical Manuals: Manuals are complete with your program, electrical, mechanical schematics, down to detailed replacement parts. We can be on the 'same page' with you with just a phone call. A Visumatic Exclusive.
Customized For Your Process: Visumatic nosepieces are engineered to fit your part and application.
More Experienced: Our engineers have over 90 years combined experience and our average employee tenure is over 14 years.
On-call Support: Visumatic's support staff is on-call and can be on site within 24 hours.
Fast Delivery: Most applications can be delivered in 3 to 6 weeks.
Extensive Testing: Systems are exhaustively tested to ensure long run cycles, decrease down time and low cost of ownership.
High Repeat Business: Our customer satisfaction is so high that over 80% of our business comes from repeat customers.
Our customer base includes top-shelf OEM automotive, appliance and electronics manufacturing companies such as Honda, Ford, Toyota, Chrysler, General Motors, General Electric, Armstrong Air Conditioning, Amana Appliances, Maytag, Frigidaire, Honeywell, Hitachi, Sony and many others, as well as their suppliers.
Visumatic is an independent, family-owned and operated business located in Lexington, Kentucky.