Pin Insertion System VIN-700
Featured Product from Visumatic Industrial Products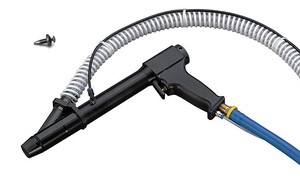 Built from the most reliable fastening platform on the market, the
VIN-700
is engineered to augment hand assembly for automatic pin insertion.
This unique Visumatic drive system engages behind the fastener, allowing the operators to use the pin to align mating parts, prior to install actuation.
Part interface tooling is custom designed to allow pin placement in tough part geometry such as counterbores, recesses, and raised bosses.
Paired with Visumatic's standard Model 94 pin feeder, the VIN-700 can be built to feed and insert a wide range of fasteners including Barbed Darts, Pins, Dowels, Standard Rivets, and Dual Action Push Pins.
This system can be configured inline for vertical assembly, or pistol-gripped for horizontal applications.
Check out our
latest video
showing how Visumatic helped a medical device manufacturer automate their pin insertion assembly process.