Rebalance Assembly Line Fastening
Service Detail from Visumatic Industrial Products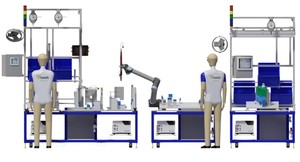 Cobot Workstation Helps Rebalance Assembly Line Fastening
Reducing assembly worker density is on everyone's mind, and now is the time to reconfigure your cell layouts to get ahead of the curve ~ and flatten the curve. If your operators are stuck side by side in the work flow, give them some space and a predictable co-worker they can always get along with.
Cobot Workstation for Fastening Assembly
Application: Feature packed turnkey fastening workstation for flexible collaborative assemblly.
Start a new chapter of fastening automation with Visumatic's cobot workstation. This turnkey robotic assembly cell has the flexibility to be implemented on an existing line or as a portable workstation. Complete cobot package includes all the process control gear you need to get automation done.
This blend of technologies will move you beyond traditional robotic automation barriers without the burden of a specialized programmer. The six-axis robot has the agility required to handle parts with compound surfaces today and in the future. Our standard configuration packages have the built-in capability to fit your process flow.
Our cobot workstation hits your floor ready to work and packed with these features:

UR5e Collaborative Robot / 850mm Reach / teach pendant
VCM-3X.2 cobot fastening module with Model 94 feeder
Torque/angle control tightening system
Basic part fixture with manual clamping
Visumatic standard workstation frame assembly
Opti-Touch cycle start button
Area scanner with 270 degree enhanced safety zone
Optional Features:
Light Tower Status Indicator
Smart Fixture with Part Presence Sensors
Bulk Fastener Supply Hopper with Controls
360 degree area scanning
Vision tasks and inspection
Additional customizations available
The Visumatic Advant-edge
Quick start up with Visumatic's plug and perform turnkey assembly cobot workstation.
The workstation comes fully programmed utilizing our certified URCap cobot joining solution. It leverages Visumatic's world class fastening experience to qualify your application. A simple yet powerful tool to allow your robot to perform real applied work.
The area scanner augments cobot safety protocols by creating defined workstation proximity zones. When personnel detection occurs in the intermediate zone, robot speeds are reduced. Robot movement is completely halted if the closet zone is reached.
Re-Inventing Automated Assembly Fastening, Everyday.
Visumatic is a specialty engineering firm whose mission is to deliver easily recognizable value in every fastening solution we create. We design and build the best automated fastener feeding and driving equipment on the market for manufacturing companies doing assembly work.
Automatic nut and screwfeeding and driving systems
Applications for nuts, bolts, push pins, and plastic fasteners
All design, fabrication and quality control is done in-house
Exhaustive, controlled testing is done on every unit before it ships
We provide solutions for any automated fastening challenge
We answer challenges for our customers:
We deliver longer life cycles, extreme durability, pinpoint accuracy and the strongest guarantee in the business.
We invented the Locking Bit to make handheld assembly tasks easier.
We invented the Viper to offer a turn-key truly programmable robotic feeding and driving system.
We incorporate highly engineered ergonomics for safer, operator friendly components and greater operator acceptance.
The Visumatic Advant-edge
Our 100% Guarantee: Our systems are 100% guaranteed with a six-month unconditional guarantee, and lifetime customer service support.
Customer Specific Technical Manuals: Manuals are complete with your program, electrical, mechanical schematics, down to detailed replacement parts. We can be on the 'same page' with you with just a phone call. A Visumatic Exclusive.
Customized For Your Process: Visumatic nosepieces are engineered to fit your part and application.
More Experienced: Our engineers have over 90 years combined experience and our average employee tenure is over 14 years.
On-call Support: Visumatic's support staff is on-call and can be on site within 24 hours.
Fast Delivery: Most applications can be delivered in 3 to 6 weeks.
Extensive Testing: Systems are exhaustively tested to ensure long run cycles, decrease down time and low cost of ownership.
High Repeat Business: Our customer satisfaction is so high that over 80% of our business comes from repeat customers.
Our customer base includes top-shelf OEM automotive, appliance and electronics manufacturing companies such as Honda, Ford, Toyota, Chrysler, General Motors, General Electric, Armstrong Air Conditioning, Amana Appliances, Maytag, Frigidaire, Honeywell, Hitachi, Sony and many others, as well as their suppliers.
Visumatic is an independent, family-owned and operated business located in Lexington, Kentucky.