Robotic Assembly: Companion Parts In One Cycle
Featured Product from Visumatic Industrial Products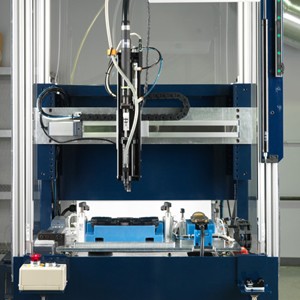 Visumatic's dual application XY robot assembly machine is a compact, state of the art, accomplishment for automated fastening. This machine is able to handle assembly of two highly complex, different parts in the same footprint using roughly one third the floor space, by utilizing separated X and Y robot axis working in tandem.

The X axis allows the drive spindle to move back-and-forth while the y-axis moves the parts fixture in and out. This way, the Robot controller achieves the same XY motion without being conjoined.

The screwdriver locations are on separate z-axis planes. In order to accommodate this challenge, VISUMATIC designed a specialized tooling tip to handle multiple drive location levels.

Both part assemblies are unique, each requiring a different fastener. Visumatic built two completely independent screw feeders. The machine program selects which screw is required and delivers it to the tooling tip.

Each part differs in density, material stack up, and torque requirements. The machine controller tracks the assembly through the entire process ensuring perfection in every finished part.