Screw Driving: Jump from Manual to Automatic
Featured Product from Visumatic Industrial Products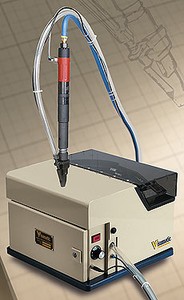 Watch>>>VLB-900-M Mini Automatic Screwdriver with Screwfeeder
VLB-900 Locking Bit with Screwfeeder
Locking Bit is Visumatic Industrial Products' basic, hand held automatic screwfeeder. It's the simplest, most reliable hand held feeding and driving system on the market. Visumatic invented the Locking Bit Handheld System with over 20 years of research and development.
Our exclusive design:
• Keeps the bit and screw engaged in the nosepiece
• Operator can align the parts prior to fastening using the screw to
feel the joint
• Allows vertical, horizontal and inverted application
• Pistol Grip or Inline assemblies
• Operator can 'ice pick' the assembly ensuring proper alignment,
seamless application and maximum productivity
The Visumatic Advant-edge
• Advanced microprocessor controls
• The simplest, most reliable and efficient feed system available
• One Movement, Zero Adjustments
- No external springs or pins hold the nosepiece together
- Steel enclosure limits sound and debris
- Longest blow distance on the market
• Greater control and capability
• Nosepieces designed to fit your part, control the screw, keep bit & screw engaged

Visumatic Locking Bit systems are designed for your part, with he best choice of:
• Drive Motor: Pneumatic, AC or DC Electric Torque Control
• Nosepiece: Jaw, Finder, Mini, or Nut-Jaw
• Feeder Escapement: Standard, Nut, Cam, or Finger
• Driver Style: Inline or Pistol Grip Lever, Trigger or Push-to-start
• Optional Ergonomic Torque Arm & Bulk Supply Hoppers
Greater Control. Greater Capability. Built Better.
Follow us on:
Re-Inventing Automated Assembly Fastening, Everyday.
Visumatic is a specialty engineering firm whose mission is to deliver easily recognizable value in every fastening solution we create. We design and build the best automated fastener feeding and driving equipment on the market for manufacturing companies doing assembly work.
Automatic nut and screwfeeding and driving systems
Applications for nuts, bolts, push pins, and plastic fasteners
All design, fabrication and quality control is done in-house
Exhaustive, controlled testing is done on every unit before it ships
We provide solutions for any automated fastening challenge
We answer challenges for our customers:
We deliver longer life cycles, extreme durability, pinpoint accuracy and the strongest guarantee in the business.
We invented the Locking Bit to make handheld assembly tasks easier.
We invented the Viper to offer a turn-key truly programmable robotic feeding and driving system.
We incorporate highly engineered ergonomics for safer, operator friendly components and greater operator acceptance.
The Visumatic Advant-edge
Our 100% Guarantee: Our systems are 100% guaranteed with a six-month unconditional guarantee, and lifetime customer service support.
Customer Specific Technical Manuals: Manuals are complete with your program, electrical, mechanical schematics, down to detailed replacement parts. We can be on the 'same page' with you with just a phone call. A Visumatic Exclusive.
Customized For Your Process: Visumatic nosepieces are engineered to fit your part and application.
More Experienced: Our engineers have over 90 years combined experience and our average employee tenure is over 14 years.
On-call Support: Visumatic's support staff is on-call and can be on site within 24 hours.
Fast Delivery: Most applications can be delivered in 3 to 6 weeks.
Extensive Testing: Systems are exhaustively tested to ensure long run cycles, decrease down time and low cost of ownership.
High Repeat Business: Our customer satisfaction is so high that over 80% of our business comes from repeat customers.
Our customer base includes top-shelf OEM automotive, appliance and electronics manufacturing companies such as Honda, Ford, Toyota, Chrysler, General Motors, General Electric, Armstrong Air Conditioning, Amana Appliances, Maytag, Frigidaire, Honeywell, Hitachi, Sony and many others, as well as their suppliers.
Visumatic is an independent, family-owned and operated business located in Lexington, Kentucky.