Supporting the tool & eliminating torque reaction
Featured Product from Visumatic Industrial Products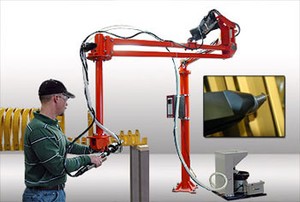 VPA Ergonomic Power Assist Torque Arm Systems with Screwfeeder
We understand operator challenges and ergonomic demands. With the torque/balance Power Assist Arm, Visumatic accomplishes a tremendous ergonomic and efficiency advantage, supporting the tool and eliminating torque reaction. A great value in the long run.
Improves Ergonomics, reduces elbow stress & possibility of carpal tunnel syndrome:
• Reduce Torque Reaction
• Operators hand is closer to the work plane
• Monitors, and releases the drive-down force at pre-determined
torque value
• Protect operators by applying the drive-down force during
the assembly
The Visumatic Advant-edge
Torque reaction arms available powered or non-powered.
Because after all, your employee is your best asset.
Visumatic Power Assist torque arm and ergonomic balancer systems are configured for your parts, with the best choice of:
• Drive Motor: Pneumatic, AC or DC Electric Torque Control
• Nosepiece: Jaw, Finder, Mini, or Nut-Jaw
• Feeder Escapement: Standard, Nut, Cam, or Finger
Hand Held Systems are designed to automatically deliver screws to the driving position, keeping the operator from having to reach for screws and manually place them onto the bit. The operator manually locates and initiates the drive cycle.
Applications:
• Screws, Nuts, Plastic 'Christmas Trees', Push Pins, Rivets
• Standard to exotic fasteners
• Ergonomic improvement and quality control
• When volume is not sufficient to fully automate
• When installation locations vary
Configured for Your Part, Your Line with the right:
Driver Tool, Nosepiece and Feeder Escapement
Re-Inventing Automated Assembly Fastening, Everyday.
Visumatic is a specialty engineering firm whose mission is to deliver easily recognizable value in every fastening solution we create. We design and build the best automated fastener feeding and driving equipment on the market for manufacturing companies doing assembly work.
Automatic nut and screwfeeding and driving systems
Applications for nuts, bolts, push pins, and plastic fasteners
All design, fabrication and quality control is done in-house
Exhaustive, controlled testing is done on every unit before it ships
We provide solutions for any automated fastening challenge
We answer challenges for our customers:
We deliver longer life cycles, extreme durability, pinpoint accuracy and the strongest guarantee in the business.
We invented the Locking Bit to make handheld assembly tasks easier.
We invented the Viper to offer a turn-key truly programmable robotic feeding and driving system.
We incorporate highly engineered ergonomics for safer, operator friendly components and greater operator acceptance.
The Visumatic Advant-edge
Our 100% Guarantee: Our systems are 100% guaranteed with a six-month unconditional guarantee, and lifetime customer service support.
Customer Specific Technical Manuals: Manuals are complete with your program, electrical, mechanical schematics, down to detailed replacement parts. We can be on the 'same page' with you with just a phone call. A Visumatic Exclusive.
Customized For Your Process: Visumatic nosepieces are engineered to fit your part and application.
More Experienced: Our engineers have over 90 years combined experience and our average employee tenure is over 14 years.
On-call Support: Visumatic's support staff is on-call and can be on site within 24 hours.
Fast Delivery: Most applications can be delivered in 3 to 6 weeks.
Extensive Testing: Systems are exhaustively tested to ensure long run cycles, decrease down time and low cost of ownership.
High Repeat Business: Our customer satisfaction is so high that over 80% of our business comes from repeat customers.
Our customer base includes top-shelf OEM automotive, appliance and electronics manufacturing companies such as Honda, Ford, Toyota, Chrysler, General Motors, General Electric, Armstrong Air Conditioning, Amana Appliances, Maytag, Frigidaire, Honeywell, Hitachi, Sony and many others, as well as their suppliers.
Visumatic is an independent, family-owned and operated business located in Lexington, Kentucky.