Tabletop Assembly Machine For Tight Spacing
Featured Product from Visumatic Industrial Products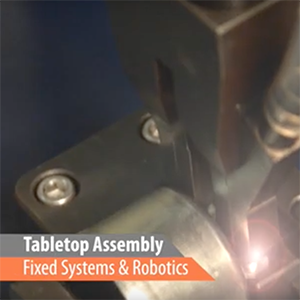 An electrical products manufacturer was struggling to maintain production numbers without adding labor. This application required two screws to be driven to depth into a metal electrical connector. The screw installation points were only 7/8" apart, creating an exceptional challenge for automated fastening.

Due to the customer's workflow demands, Visumatic chose a flexible tabletop design approach, to allow for quick deployment. It has a part fixture and a two-spindle VPD Power Driver all tied together by a weldment and base plate. The feeder unit is on a separate base plate, and is connected to the drive spindles by some hoses and cabling. The customer can pick one or both pieces up and move them anywhere their operation requires.

The feed system will deliver two screws per cycle, one to each nosepiece via the transfer tubing. The carriage extends driving both screws simultaneously to depth. The head will retract and the operator removes the part.

We incorporated an offset joint system due to the on-center spacing, with each drive spindle functioning independently. As the drive cycle progresses, often one screw may get ahead of another and it's important to allow both spindles to float independently to allow a consistent joint formation.

This straight forward controls platform has a simple PLC and basic operator interface. From design concept to approval and build, we keep the customer in control of their work cell process flow. A Visumatic table top assembly machine is a very affordable option for high-volume, flexible assembly.