Stubby Plunger: Steel and stainless steel
Featured Product from Vlier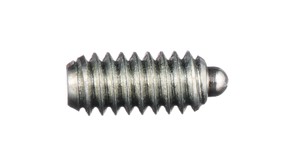 Vlier Stubby Plungers offer greater travel than ball plungers and less travel than standard plungers. These compact units provide considerable plunger travel and high end forces, which are ideal for restricted space applications.
Special features include: Case hardened plunger; wear and corrosion resistance; compact size; allows some side loading; intermediate travel; screwdriver installation.
Typical uses include: Limited space; indexing; electrical contacts; part position; locking; and detents.