Deep Drawing for a Wide Range of Parts
Service Detail from Vollrath Manufacturing Services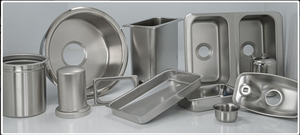 Our expertise in deep drawing makes us the perfect partner for all your drawing needs
When you partner with Vollrath Manufacturing Services, you are provided with a wide range of deep drawing capabilities for all your new product needs. Our wide variety of presses allows us to be responsive to our customers, keeping your product launch on or ahead of schedule. Our draw reverse-draw, provides you with product design and manufacturing solutions that most suppliers can't deliver. We also have the unique capability of offering a 2.5 to 1 depth-to-diameter ratio.
We have a range of automated machines which can assist in keeping your new product development costs to a minimum. There is no need to outsource the annealing process which would lengthen the delivery time and drive up the cost of your product. With our in-house annealing capability we have total control of every aspect of the deep drawing process.
Learn more about our deep drawing capabilities.