Optocouplers — High Voltage, Gain and Resolution
Featured Product from Voltage Multipliers, Inc.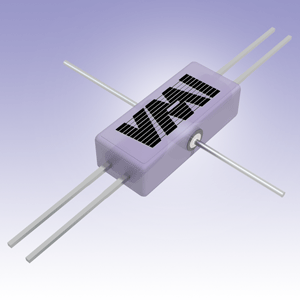 10kV and 15kV High Voltage Optocouplers
Manufactured by VMI, the OC100G and OC150G optocoupler families offer high voltage, high gain, and high isolation. Our optocouplers are built to the same high quality and reliability benchmarks as all of our products.
Using a high voltage photo-diode and multiple LEDs precisely positioned, the OC100G and OC150G are optimized for high gain and feature long-term gain stability.
Designed to be integrated into controlled feedback systems, such as voltage regulators or switches, our optocouplers can be used in applications ranging from noisy industrial environments to sensitive equipment such as mass spectrometers.
Other optocouplers are available in different package styles and terminations, ranging from 2.5kV to 25kV.
VMI is ISO9001:2015 certified and all of our products are made and 100 percent tested at our facility in Visalia, California, USA.
Contact us today for more information.
About VMI...
VMI specializes in high voltage diodes, power supplies, optocouplers, multipliers and related assemblies. Our products are custom designed for military, industrial, medical, aerospace and other high-reliability applications operating at the leading edge of technology.

Established in 1980, VMI has years of experience in high voltage design and we are committed to quality and service. With a full staff of engineers and technicians, we are here to assist you throughout the production process, from design development to production manufacturing. We offer extensive testing, design verification, production support and custom design services.