High Voltage, High Current Diode - 1N6519
Featured Product from Voltage Multipliers, Inc.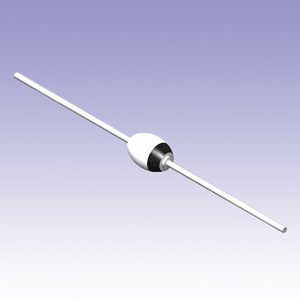 The 1N6519 high voltage diode is a glass-body, axial-leaded, hermetically sealed device that can withstand 10kV. The forward current rating is 500mA, and Trr is 70ns maximum.
The 1N6519 features high voltage in a small footprint. It is designed to operate in dielectric fluid without absorbing moisture.
Physical dimesnions are 0.400"max. length x 0.185" +/- .030" diameter (10.16mm max length x 4.7mm +/- .76 mm diameter).
Other combinations of reverse voltage, forward current, Trr, and packaging are available on the VMI website.
About VMI...

VMI specializes in high voltage diodes, power supplies, opto-couplers, multipliers and related assemblies. Our products are custom designed for military, industrial, medical, aerospace and other high-reliability applications operating at the leading edge of technology.

Established in 1980, VMI has years of experience in high voltage design and we are committed to quality and service. With a full staff of engineers and technicians, we are here to assist you throughout the production process, from design development to production manufacturing. We offer extensive testing, design verification, production support and custom design services.

VMI is ISO9001:2015 certified and all of our products are made and 100 percent tested at our facility in Visalia, California, USA.

Voltage Multipliers, Inc.
8711 W. Roosevelt Ave.
Visalia, CA 93291 USA
(559) 651-1402
sales@voltagemultipliers.com