JANTX/JANTXV High Voltage Diode
Featured Product from Voltage Multipliers, Inc.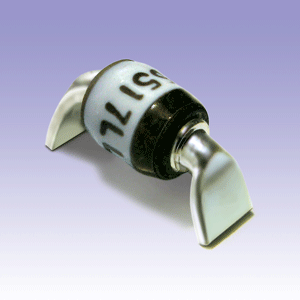 The JANTX/JANTXV 1N6517FL diode features higher current capability and lower thermal impedance than an axial-leaded device. Improved thermal characterstics are achieved through the use of thicker diameter and shorter leads versus those used in the standard axial-leaded, through-hole devices.
Better thermal characteristics means more current carrying capacity and less heat. Less heat means less derating and longer life.
Specs for the formed-lead JANTX/JANTXV1N6517FL
More VMI QPL Diodes
About VMI...

VMI has over 40 years of experience in high voltage design. We specialize in high voltage diodes, power supplies, optocouplers, multipliers and related assemblies. Our products are custom designed for military, industrial, medical, aerospace and other high-reliability applications operating at the leading edge of technology.

Our full staff of engineers and technicians are here to assist you throughout the production process, from design development to production manufacturing. VMI offers extensive testing, design verification, production support and custom design services.

VMI is ISO9001:2015 certified and all of our products are made and 100% tested at our facility in Visalia, California, USA.