OC100HG High Gain Optocoupler
Featured Product from Voltage Multipliers, Inc.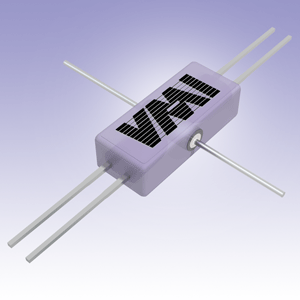 The OC100HG uses two LEDs precisely positioned to maximize illumination of a specially passivated high voltage (HV) diode. The diode junctions are light sensitive, which means when the diode is exposed to light while reverse biased, the leakage current through it, goes up. The brighter the light from the LED, the higher the leakage current through the HV diode.
Similarly, current flow through the LED determines the light intensity level. The higher the current flow through the LED, the brighter it shines.
Measuring the leakage current of the diode provides a feedback method to externally control the forward current through the LED.
Optocouplers are often used as switches or HV Linear Regulators. They are ideal for use in high voltage power supplies and test equipment.
Optocouplers are well suited to applications requiring high voltage isolation or remote sensing capabilities.
The OC100HG features:
10,000 Volts Reverse Voltage
25kV Isolation Test Voltage
Pb-free RoHS Compliant
Configurable as a Current or Voltage Regulator
In general, High Voltage Optocouplers feature:
High Voltage Operation
High Isolation
Configurable as a Current or Voltage Linear Regulator
Applications include:
High Voltage Power Supplies
Micro-controllers
Linear Regulators
Remote Sensing
About VMI...

VMI specializes in high voltage diodes, power supplies, optocouplers, multipliers and related assemblies. Our products are custom designed for military, industrial, medical, aerospace and other high-reliability applications operating at the leading edge of technology.

Established in 1980, VMI has years of experience in high voltage design and we are committed to quality and service. With a full staff of engineers and technicians, we are here to assist you throughout the production process, from design development to production manufacturing. We offer extensive testing, design verification, production support and custom design services.

VMI is ISO9001:2015 certified and all of our products are made and 100 percent tested at our facility in Visalia, California, USA.

Voltage Multipliers, Inc.
8711 W. Roosevelt Ave.
Visalia, CA 93291 USA
(559) 651-1402
sales@voltagemultipliers.com