Single Phase Bridges & Rectifier Assemblies
Featured Product from Voltage Multipliers, Inc.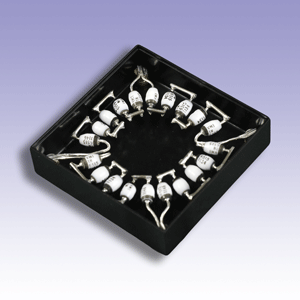 VMI manufactures high voltage assemblies ranging from 5kV to 40kV, 70nS to 3000nS, 50mA to 2.2A.
VMI's single phase bridges are assembled with VMI diodes, then encapsulated in a rigid epoxy.
Our rectifier assemblies are suitable for rugged-environment applications. High voltage stacks are axial-leaded, epoxy encapsulated devices. Width and height stays the same, depending on which family (FP, SP, or SPJ), but the length will vary depending on the reverse voltage rating. Check the data sheet for length dimensions.
VMI standard products include Rectifier Stacks and Single Phase Bridges.
Contact us if your project requires a custom design. Our full staff of engineers and technicians are here to assist you throughout the production process, from design development to production manufacturing.
VMI's products are custom designed for military, industrial, medical, aerospace and other high-reliability applications.
VMI is ISO9001:2015 certified and all of our products are made and 100 percent tested at our facility in Visalia, California, USA.