Smallest Footprint Possible for a 15kV Diode!
Featured Product from Voltage Multipliers, Inc.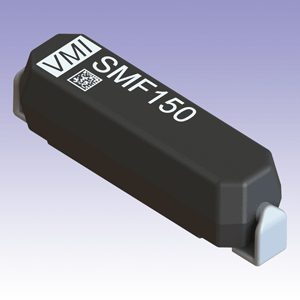 The SMF150 high voltage diode features 15kV reverse voltage in the smallest package available. Measuring just 0.450" l x 0.120" w x 0.130" h (11.43mm l x 3.048mm w x 3.302mm h), it delivers 10mA of forward current, and a reverse recovery time of 100ns, all in the smallest footprint possible.
Starting with VMI's standard glass-body, hermetically sealed diodes, these devices are over-molded in a rigid epoxy. The leads are then trimmed and formed.
Design advantages include:
Increased creepage distance between the anode and cathode
Uniform and precise dimensions
Specially designed for use with automatic insertion equipment such as pick-and-place machines
Another advantage of VMI's SMF and SXF diodes is an improved process using film-assisted technology to produce highly repeatable and reliable molded parts with laser marking for clean easy-to-read labels and lot traceability.
This film-assisted-molding process provides a number of benefits compared to conventional molding methods, such as:
Increased manufacturing capacity
Allows for greater repetition capability and the reliable molding process produce more superior parts
New labeling allows for better data collection and statistical process control
Improves on-time product delivery
About VMI...

For over 40 years VMI has specialized in high voltage diodes, power supplies, optocouplers, multipliers and related assemblies. Our products are custom designed for military, industrial, medical, aerospace and other high-reliability applications operating at the leading edge of technology.

Our full staff of engineers and technicians are here to assist you throughout the production process, from design development to production manufacturing. We offer extensive testing, design verification, production support and custom design services.

VMI is ISO9001:2015 certified and all of our products are made and 100% tested at our facility in Visalia, California, USA.