Versatile Spot Cooling with Vortec Cold Air Gun
Featured Product from Vortec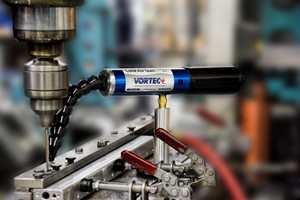 Vortec Cold Air Guns use filtered compressed air and vortex tube technology to produce sub-zero air. With no moving parts to wear out, the internal vortex tube converts compressed air into a cold air stream, producing temperatures down to -30°F (-34°C). With adjustable temperature and flow rate settings, users can customize the output to their specific application needs. By utilizing air-cooling technology, the Cold Air Gun eliminates the mess and expense of liquid coolant and helps avoids secondary parts cleaning after machining.
Cold Air Guns are most often used for cooling of metal parts, in the machining and repair of metals, plastics, wood, ceramics and other materials. Cold air machining outperforms mist coolants and substantially increases tool life and feed rates on dry machining operations. The effective cooling from a Cold Air Gun can eliminate heat-related parts growth while improving parts tolerance and surface finish quality.
For a more comprehensive solution, the Cold Air Gun can be purchased as a system that includes a magnetic base and a 5 micron auto-drain compressed air filter.
BENEFITS:
Increase dry machining speeds up to 36%
Extend tool life by 50%
Eliminates the mess, expense and safety concerns of using mist coolants
Reduce waiting or normalization time by cooling parts faster
Eliminate the potential for burning and scorching
Avoid secondary parts cleaning after machining
Reduce grinding wheel loading caused by overheating
Airflow clears sawdust, shavings and dirt away from surface
FEATURES:
Creates cold air up to 100 F deg (+ 56 C deg) below the inlet compressed air temperature
Quiet operation; meets OSHA noise specifications
Adjustable temperature and flow rate
Highly reliable with no moving parts
Low pressure outlet air
Uses only compressed air – no Freon
System includes a magnetic base and a 5 micron auto-drain compressed air filter
Magnetic base allows for easy, close in positioning and easy portability
Ergonomic trigger mechanism on the Cold Air Pistol
Frost free nozzle eliminates mess from frost and condensation