COVID hits, Innovation continues: Dense networking
Featured Product from VOXMICRO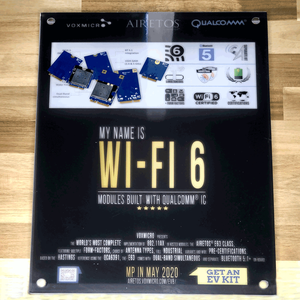 With the QCA6391, QUALCOMM is building on its history of delivering game-changing technologies, like MU-MIMO and 8-stream sounding. The QCA6391 is a high performance, fully featured Wi-Fi 6 Chip that provides resilient 802.11ax combo with a rich, outperforming implementation of the new Bluetooth 5.1 into a single die.
VOXMICRO's AIRETOS® E63 Class sets an industry benchmark by marrying state-of-the-art technologies with extended featuresand cutting-edge, flexible design. The E63 Class aids adoption with module variants that widely cover form factors, operating grades and antenna designs. All complemented by extensive regulatory and design support.
E63 Wi-Fi Key Features
Dual Band Simultaneous (DBS) with dual MAC, up to 1774.5 Mbps dynamic data transfer rate at 2x2(2.4Ghz) + 2x2(5Ghz) 11ax DBS mode. Full 802.11ax/ac/abgn MU-MIMO two antenna Wi-Fi.
20/40 MHz channel bandwidth for 2.4 GHz and 20/40/80 MHz channel bandwidth for 5 GHz.
Seamless antenna sharing with LTE, LTE-U and 5G.
Dynamic Frequency Selection (DFS, radar detection).
Offloading traffic for minimal host utilization at 11ac/ax speeds.
Low power PCIe (w/L1 sub-state) interface.
Integrated close-loop power detector.
E63 Bluetooth Key Features
Bluetooth 5.1+ Milan with Class I mode, ANT+ and BLE. Backward-compatible to previous standards.
Split ACL support for A2DP true stereo. Dual eSCO and dual A2DP streams.
Flexible interface Slimbus/PCM/I2S/I2C for BT audio.
Virtual (soft) USB available for combined UART/PCM/I2S management.
Flexible Form-Factor and Antenna Choice
The E63 Class Chip-On-Board (CoB) Series B, have three on board antenna connectors, two for Wi-Fi and a separate one for BT. It is offered for SMT or soldered on carriers (Series W, F and X) and is based on Qualcomm reference designs Hastings Family. Built to meet the surging connectivity demands of today's world and with choice in mind the CoB offers the choice option of high-performance U.Fl. / IPEX or smaller MHF4 antenna connectors on-board. The dedicated BT antenna, not-sharing with WLAN clock cycles. Pre-certifications are existing for all major domains (FCC, ISED Canada, EU RED, Japan) with 5 antenna types. Series R, which is built exact with Qualcomm's reference design Hasting NFA, has smaller MHF4 connectors on board and sahres BT with WLAN and concurrently with 5G WLAN. The Series R benefits of Qualcomm's world regulatory pre-certification with PIFA antenna type. All E63 Class modules operate up to -400 to +900 Celsius and support Windows, Linux, macOS and Android operating systems.
The power of the CoB Core
The CoB+ (Chip-on-Board-on-Carrier) methodology forges choice of form-factors into Series W, F and X, maintaining all special features:
The AIRETOS E63 Class Wi-Fi 6 modules provide a much more resilient, faster, denser and further connectivity
The Wi-Fi 6 standard enables more client devices – and many times more IoT devices – to operate unimpeded on the network. It enables more audio, video and other real-time data. Taken together, it means the E63 Class wireless networks are available for myriad new real-time applications.
Public Wi-Fi
E63 Class modules enable high performing Wi-Fi connectivity in high-density environments like stadiums, subway stations or college campuses. For many of applications, it is more than just the raw number of clients clamoring for attention on the network. It is also the radio noise from nearby networks, and from other devices on competing frequencies. This is particularly true on the 2.4 GHz band, where many appliances conspire to pollute the spectrum for Wi-Fi.
Home
E63 Class Wi-Fi 6 modules arrived just in time to prevent home networks from getting overwhelmed by the number of devices all clamoring for connectivity and support high-performance mesh networks. E63 sparks a revolution in the smart home, which thus far has been unfolding slowly – primarily due to the limitations of existing networks. They also facilitate the rearchitecting of voice assistants, which will help make them the cornerstone of the smart home.
Enterprise
Enterprises which opt for full-spec Wi-Fi 6 solutions like E63 Class Qualcomm's QCA6391 can plan for up to 1,500 devices connecting effortlessly on a single access point. Wireless office, and diverse IoT and IIoT applications in various enterprise environments are now made possible with Wi-Fi 6.
Automotive
The segment, in fact, has already been in revolutionary mode as it prepares to introduce the first vehicles with integrated 5G cellular with the 2022 model year. The industry is hard at work on new uses for 5G – most notably V2X, shorthand for vehicle-to-just-about-anything-else communication.
E63 Class Wi-Fi 6 makes possible connectivity in areas of dense office and residential complexes – which, during rush hour, will also have scores of in-auto networks vying for spectrum in stop-and-go traffic. In-car entertainment is a nascent segment that will get a big boost from Wi-Fi 6 and 5G, as the combination will offer real-time responsiveness needed for A/V streaming, inside the vehicle and out.