Electronic Design Services
Service Detail from VOXMICRO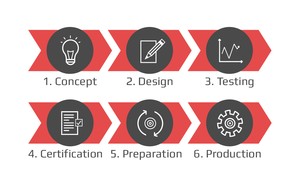 Avoid costly revisions and delays, by working with us. Throughout any stage in your development, you can work with our Design team to receive a comprehensive analysis of your applications and/or devices, which significantly improve their stability and performance, in addition to reducing overall time-to-market, mitigating risk and reducing non-recurring engineering (NRE) costs.
Our comprehensive capabilities allow you to engage with one company to build your product from concept through production; avoiding the challenges and complexities that can occur when working with multiple vendors. Additionally, our dedicated Engineers team can newly develop or customize any module design, adapting it to your product-specific requirements and specifications.
We have an experienced multidisciplinary Design team that can complete all aspects of product development, including RF, mechanical and digital design, driver development, certification, rapid prototyping, and mass production. To optimize the process and its outcomes we use standard advanced tools like OrCAD, Allegro, Protel, QDART, and IQview, as well as specific on-demand available tools for supporting function tests, electrical and stress measurements.