Qualcomm IC Wi-Fi 5 / Bluetooth 5.0 Combo Modules
Featured Product from VOXMICRO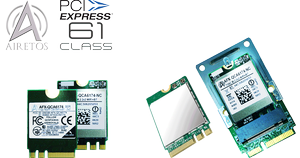 The AIRETOS® E61 Class is a highly integrated and cost-effective single-die wireless Wi-Fi / Bluetooth combo solution to support 1×2 IEEE 802.11ac/abgn (Wi-Fi 5) PCI-E WLAN standards and BT 5.0. It enables seamless integration of WLAN and BT with low-energy technology in a small footprint, low-height, modular design providing a fully-featured cost-effective solution for consumer applications.
The AIRETOS® E61 Class comes with World-level Regulatory Compliance and full compatibility with the latest industry standards and advisory for regulatory adaptability, aiding swift design-to-market deployment solution for the growing consumer electronics applications. E61 Class supports high-speed Wi-Fi connectivity and enriched media experiences and has integrated RF front-end and single-ended design for simpler and low-cost design.
A high level of integration and full implementation of power management functions specified in the E61 Class minimizes system power requirements. Both WLAN and BT conserve power having several power-saving modes implemented, like MIMO-PS, UAPSD, Green-Tx, host power offload, Packet-power-save (PHY-NAP), early beacon termination.
The E61 Class evolves Qualcomm-Atheros's Reference Design QCNFA364A (Rome) using the QCA6174A-5 chipset and has extended community support under Linux ATH10K and a full range of drivers for Windows, macOS, and Android OS.
It is also available in an industrial range variant with extended operating temperatures covering broader business and commercial requirements.