Qualcomm based, infrastructure Wi-Fi 5 DB modules
Featured Product from VOXMICRO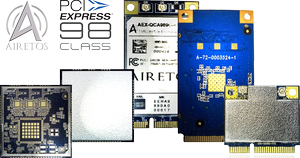 The AIRETOS® E98 Class supports high-end wireless link configurations for retail, carrier and enterprise networking customers. The E98 Class includes 2- and 3-stream, dual-band 802.11ac (Wi-Fi 5) to PCIe modular designs up to industrial operating conditions and temperature (-400C to ~850C). The modules achieve up to 1.3 Gbps wireless data rates and target next-generation dual-band, dual-concurrent (DBDC) wireless access points, routers, and gateways. Following the Wi-Fi 5 protocol, they support wider channel bandwidth (80 MHz) at 5Ghz and wider 256-QAM, plus other features that improve network bandwidth, reliability, and efficiency of wireless connections.
With advanced QFN, On-chip CPU for Host Wi-Fi offload, 80Mhz channel bandwidth, 4 Gbit/s bus bandwidth, evolved QAM baseband modulation technologies and 867Mbps WLAN peak throughput the AIRETOS® E98 Class is setting high standards. Especially the E98 Class' enterprise features provide ideal options for mission-critical applications for Medical & Healthcare devices, Transportation & Logistics Solutions, IoT applications, Smart Cities Infrastructure and demanding IIoT environments.
The AIRETOS® E98 Class has extended community support under Linux ATH10K and a full range of drivers for Windows and Android OS.