No more slipping and stretching w/ Berg sprockets
Featured Product from W.M. Berg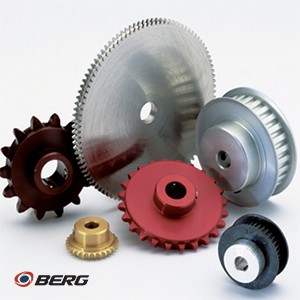 With an arsenal of multi-axis CNC milling and gear cutting machines, Berg has the capability to run lights out production with offline monitoring capability. This ensures the shortest possible lead times and virtually limitless capability when it comes to custom engineering.
Sprockets are used to transmit rotary motion between two shafts where gears are not suitable. Berg offers its sprockets in multiple materials; we may have capability for non-listed materials upon special request.
Used in combination with Flex-E-Gear, Flex-E-Belt, Min-E-Pitch, Flex-E-Pitch and Row-L-ER chains and belts
Materials: Stainless Steel, Aluminum, Plastic
Hub: Pin, Clamp, Flat
Click today to browse our sprocket and chain selections.