Berg's industry-leading product quality inspection
Featured Product from W.M. Berg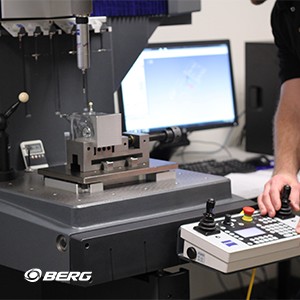 W.M Bergs' commitment to quality is evident in everything we do. From material selection, to final production, the strictest control measures are implemented. Our Inspection department adheres to the highest standards of quality. It is this level of commitment to Quality Control and Quality Assurance protocols that enables global leaders in Medical, Aerospace Military defence and many others to entrust their most critical projects to W. M. Berg.
Test Equipment
Angle Blocks & Vee Blocks
Calipers: Dial Digital & Vernier
Presure & Vacuum Gages
Levels Paralles
Countersink Gages, Bore Gages
Radius & Screw Pitch Gages
Thread Measuring Wires
Micrometer: I.D, O.D. Depth, Thread
Scales & Balances
Thread Plug & Thread Ring Gages
Torque Wrenches, Meters & Analysers
Height Gages & Height Masters
Indicators: Dial, Button, Test, Coaxial
Durometer Hardness Tester
Sine Bars, Squares
Thermocouples, RTD, Thermometers
Length Scales, Rules, Tape Measures
Pin Gages, Plug Gages
Gage Blocks English & metric
Force Gages, Load Cells, Spring Testers
Ring Gages
CMM & Dimensional Optical Inspection
Surface Finish Testing & Standards
Multimeters, Clamp-om Meters, Panel Meters
Digital Gear Analyser
Bergs Inspection Department operates in a modern facility located in Cudahy, Wisconsin. The facility services hundreds of customers offering the highest quality Inspection services. Maintaining the same high customer-focused values you have come to expect from W. M. Berg.