Cam assemblies engineered for ultimate precision
Featured Product from W.M. Berg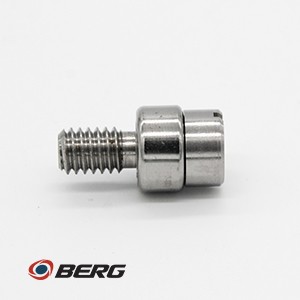 W.M.Berg offers a variety of Cams including: Bearing Cam Followers and Adjustable Cam Assemblies offered in Pin hub and Clamp hub style. Cams are generally used to convert rotary motion into reciprocating motion. Cam Followers and Roller Bearing Cam Followers are designed for outer ring rotation. Cam Followers can be used with a choice of ball bearing or bronze bearing. Berg offers screw threads ranging from #4-40 to #3/8-16.
They combine high load capacity with low profile and low friction. Our variety in sizes allows a wide range of applications.
About Berg:
Since 1967, W.M. Berg has consistently set the standard of excellence as the world's leading provider of miniature precision mechanical components. Started as a privately-held family business, Berg is now part of Rexnord Industries, a world leader in controls and automation.
W.M. Berg always has one goal in mind: to furnish the products and information you need, when you need them, with the quality you expect.
Most standard product in quantities up to 25 pieces are available in 1-2 days.
Most custom product in quantities up to 25 pieces are available in 2-4 weeks.
Our on-time delivery to customer want date is currently better than 95%.
Customer service available from 8AM - 8PM EST.
Please click on the links to the right for more information or request a quote today!