Field-spliceable, self-lubricating belts from Berg
Featured Product from W.M. Berg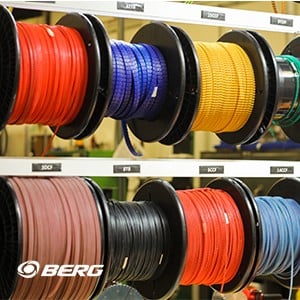 WM Berg manufactures a wide variety of cable chains, molded belts, sprockets and pulleys. The belts consist of polyurethane plastic molded over either a single or double stainless steel core.
The belts are lightweight, self-lubricating, come in infinite lengths, are field spliceable with a stainless steel splice.
The stainless steel constructed chain series offers long life, high tensile loads, and is available in many different pitch configurations.
Comparable pulleys and sprockets are offered in stainless steel, aluminum, or plastic in bore size ranges of 1/8" (3mm) diameter to ½" (12mm) diameter and are available up to 300 teeth.
Products Offered:
Roller Chains
Timing Belts
V-Belts (Spliced)
O-rings
Cables
Spliced Belts
Sprockets
Pulleys