Full lineup of precision bearings for any system
Featured Product from W.M. Berg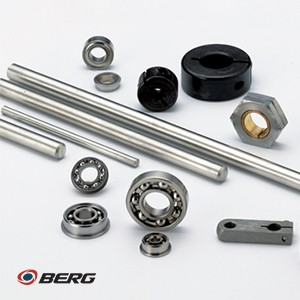 WM Berg stocks a vast array of bearings to suit every design need, such as: The Ball, Needle Roller, Sintered bronze, Oil-less, Teflon, Thermoplastic, Thrust, Roller Thrust, Spherical and Linear ball.
Sizes range from 1/8" (3mm) to 1" (25mm) diameter. Ball Bearings are offered in ABEC-0 through ABEC-7 qualities. Our shafting can be obtained in inch or metric, threaded, with rough cut, saw cut or machined ends, made to any length within 1/16" and special end configurations upon request.
We carry Split Hub, Shaft, Threaded Shaft, and Squeeze Clamps in assorted sizes. Our Gear, Sprocket, Dial, Dual Gear, and Phase Adjustable Hubs are available in both pin and clamp hub styles.
About Berg:
Since 1967, W.M. Berg has consistently set the standard of excellence as the world's leading provider of miniature precision mechanical components. Started as a privately-held family business, Berg is now part of Rexnord Industries, a world leader in controls and automation.
W.M. Berg always has one goal in mind: to furnish the products and information you need, when you need them, with the quality you expect.
Most standard product in quantities up to 25 pieces are available in 1-2 days.
Most custom product in quantities up to 25 pieces are available in 2-4 weeks.
Our on-time delivery to customer want date is currently better than 95%.
Customer service available from 8AM - 8PM EST.
Please click on the links to the right for more information or request a quote today!