Stop vibrations with shock absorbing couplings
Featured Product from W.M. Berg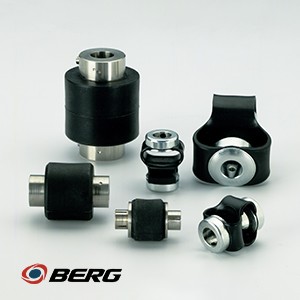 Berg has now added shock absorbing couplings to its extensive coupling family. Shock absorbing couplings are ideal for dampening vibrations, shock loads and electrically insulate shafting. Their design allows for the problems of misalignment or vibration to be easily overcome. Couplings consist of several precision components. They are as follows:
Core - the core or power transmitting component of a flexible shaft assembly is constructed of quality wire wound in layers of opposing directions on a single center wire. They come in a variety of materials, construction and sizes ranging from 1/8 to 1-5/8 inches in diameter. Standard cores cover a broad range of operating requirements up to 10HP and speeds from 0 - 50,000 RPM. Each is designed to transmit power efficiently within a specific operating criteria.
Casing - the casing or flexible conduit that supports the core during operation comes in a variety of designs for differing environmental conditions. Casings are constructed of carefully chosen materials to withstand the effects of dust, oil, moisture, abrasion and temperature extremes. They are manufactured to exhibit a minimum amount of stretch and twist providing a uniform bearing surface for the core. Standard flexible shaft couplings are provided with a casing that has a steel liner, steel and cloth reinforcing braids and a rubber cover to withstand a wide range of requirements.
About Berg:
Since 1967, W.M. Berg has consistently set the standard of excellence as the world's leading provider of miniature precision mechanical components. Started as a privately-held family business, Berg is now part of Rexnord Industries, a world leader in controls and automation.
W.M. Berg always has one goal in mind: to furnish the products and information you need, when you need them, with the quality you expect.
Most standard product in quantities up to 25 pieces are available in 1-2 days.
Most custom product in quantities up to 25 pieces are available in 2-4 weeks.
Our on-time delivery to customer want date is currently better than 95%.
Customer service available from 8AM - 8PM EST.
Please click on the links to the right for more information or request a quote today!