Hydra-Cell MT8 Triplex Metering Pump
Featured Product from Wanner Engineering, Inc.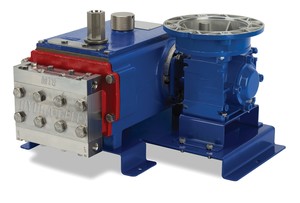 The new Hydra-Cell MT8 triplex metering pump from the Wanner Engineering line of Hydra-Cell Metering Solutions pumps features a multiple-diaphragm design to provide virtually pulse-free, linear flow without the need for expensive pulsation dampeners. It exceeds API 675 performance standards for Steady-State Accuracy (+1%), Linearity (+3%), and Repeatability (+3%).
Maximum Flow Rate:8.00 gph (30.28 lph)
Minimum Flow Rate: 0.06 gph (0.227 lph)
Maximum Pressure: 3500 psi (241 bar)
Performance Features Include:
Multiple-diaphragm design provides virtually pulse-free, linear flow without the need for expensive pulsation dampeners
Handles a wide range of processing fluids
Electronic flow control increases accuracy and reliability
Built-in pressure relief valve to protect the pump
Rugged construction
Smaller footprint saves valuable space
One pump covers a wide range of flows and pressures - reducing inventory requirements with fast, simple field conversion
Duplexing option doubles capacity and equipment savings
Hydraulically-actuated, balanced diaphragms provide superior performance across entire pressure range
Seal-less design means no seals, cups, or packing to leak or replace
A replenishment valve in every piston assembly ensures optimum actuating oil on every stroke for continuous accuracy
Available with manual flow adjustment that can be used with ATEX hazardous-duty motors
Metering Applications Include:
Oil & Gas (on-shore and off-shore)
Water & Wastewater Treatement
Polyurethane Foam
Chemical Processing
General Industry
Accessories, Options & Services Include:
Different Gearbox Ratios
Oil Systems and Kits
Actuating Oils
Magnetic Drain Plug
Motors (Standard/Explosion-proof)
Controllers
Control Freak Touch-screen Metering Controller
SmartDrive Motor-Controller
Calibration Cylinders
Back Pressure Valves
Pressure Relief Valves
Testing Services
System Components, Priming Kits and Plugs
Replacement Part Kits and Tool Kits
Pulsation Dampeners
Customization Services