Hydra-Cell SP/ST/SA Model Solenoid Metering Pumps
Featured Product from Wanner Engineering, Inc.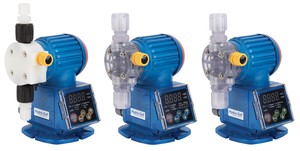 Hydra-Cell Metering Solutions S Series electronic/solenoid diaphragm metering pumps are practical and efficient pumps for chemical injection. SP, ST & SA models have pulse-in (SP), pulse-in with timer, (ST) or pulse-in/analog-in (SA) control and stroke adjustment in 1-stroke increments up to 300 strokes per minute.
Smart and intuitive operation of these models allow for simple key functions and user interface for ease of operation. Discharge volume can be set up to the maximum flow capacity in 0.1 ml/m units (with SA models), and for fine-tuning an application, the stroke length can be changed from 100% to as low as 50%.

"Eco-friendly" environmentally sound operation is standard - this feature can lower power consumption up to 55%.
A variety of materials of construction, including liquid ends in PVC, PVDF, Acrylic (to handle outgassing fluids) and Stainless Steel, are available to meet a wide range of applications. A double-ball check valve ensures metering accuracy and reduces the possibility of water hammer. An anti-siphon check valve prevents clogging at the injection point and also aids in priming.

Other safety features include a foot valve that prevent backflow into chemical injection systems and (on select models) an external relief valve that automatically releases excess pressure that builds up inside the discharge side pipes due to clogging or if the discharge valve is closed.

Available with flow rates of 25 & 28 ml/min (high-pressure models) as well as 30, 60, 100 & 220 ml/min. Optional solution tanks in three sizes (30L, 50L, 120L) are easy to install and combine the pump with a tank unit to offer large capacity in a space-saving design.
Standard Features:
Stroke speed operation to 300 strokes/minute
LED touch-pad operation with digital readout
Pulse-input/output (all models)
Pulse-input/output & timer (ST models)
Pulse-input/output & analog-input (SA models)
"Eco-friendly" energy-saving mode
Protective secondary diaphragm
Key lock
Solenoid-operation sync signal output
Control stroke speed and length
External stop signal control
Alarm signal output (except for outgassing & 220 ml/min models)
Robust, high-impact PPO construction
IEC standard; IP65 or equivalent enclosures
Variety of liquid-end & elastomeric materials
Ceramic double-ball check valve
Safe mode operation (except high-pressure & high-viscosity models)
Abnormal pressure sensor
High-pressure/boiler feed models up to 290 psi (20 bar)
Ceramic weight (PVC & PVDF pump heads)
Manual air release valve
Optional integral relief valve (except for high-pressure models)
Manual and automatic outgassing models
Piping/degassing tubing
Anti-siphon check valve
Ceramic weight (PVC & PVDF pump heads)
Wide voltage supply range & power connection styles