Hydra-Cell Seal-less Machine Tool Coolant Pumps
Featured Product from Wanner Engineering, Inc.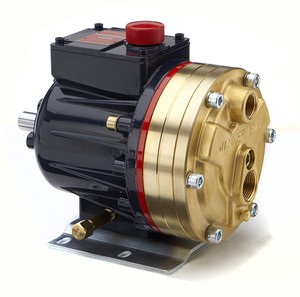 The use of high-pressure cooling for machine tool operations has increased significantly in recent years because of the added benefits it provides in lubrication, removal of abrasive chips and the cleaning and cooling of grinding wheels. Seal-less and compact, Hydra-Cell pumps reduce costs, improve cutting performance and boost productivity when pumping machine tool coolant.
For nearly 40 years, Hydra-Cell has proved itself in a wide range of applications. Featuring a seal-less design, it is ideally suited for pumping machine tool coolant at high pressure. Screw pumps, centrifugal pumps, gear pumps and multi-piston pumps cannot match the rugged construction, versatility, and performance of Hydra-Cell seal-less pumps for machine tool applications. The low-maintenance, seal-less design can handle abrasive metal fines up to 800 microns in size (depending on model) thus eliminating the need for fine filtration. Hydra-Cell is compatible with virtually any type of low-to-high viscosity coolant while delivering precise, controlled flow at high pressures to optimize tool life. And can run dry without damage to the pump!
Hydra-Cell Advantages:
Accurate flow control maintains a constant rate of pressure (up to 2500 PSI) for better performance
Operational efficiencies reduce energy costs
Seal-less design can tolerate solids of up to 800 microns diameter depending on model
Ability to handle abrasive fines and metal particles enables operation without the expense of fine filtration
Any type of coolant can be processed with no loss of efficiency
Able to run dry without damage (or additional maintenance) to the pump in case of accident or operator error
Tolerates non-ideal operating conditions
Minimizes maintenance because there are no seals, packing or cups to leak or replace
Find out today why Hydra-Cell pumps are the pumps of choice for the Machine Tool Coolant industry!