New Hydra-Cell Q330 High-Capacity Seal-less Pumps
Featured Product from Wanner Engineering, Inc.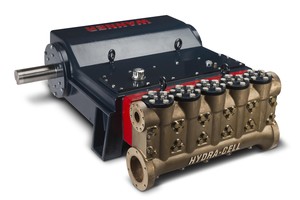 Featuring a seal-less, packing-free design, the new Hydra-Cell Q330 Series pumps lower the cost of ownership because they reduce maintenance and repair needs and provide a longer service life than competitive pumping technologies.
Like other Hydra-Cell seal-less, positive displacement pumps, the Q330 separates the hydraulic (power) end from the fluid (process) end. There are no dynamic seals, cups or packing to leak, wear or replace, and volatile organic compounds are fully contained. The seal-less design, combined with robust check valves also enables the pump to handle abrasive particles up to 800 microns in size.
Four pump models offer a wide range of flow rate and discharge pressure capacities to meet the demands of:
Oil & Gas Production (including hydraulic lift)
Salt Water Disposal (SWD)
Salt Water Injection
Bulk Transfer
Steam Generation
Reverse Osmosis (in water and wastewater treatment)
Mine Dewatering
Boiler Feed
High-pressure Cleaning
Models available to meet API 674 Performance Standards
Performance Benefits:
Seal-less design eliminates leaks, hazards, and the expense associated with seals and packing.
Low NPSH requirements allow for operation with a vacuum condition on the suction - positive suction pressure is not necessary.
Can operate with a closed or blocked suction line and run dry indefinitely without damage, eliminating downtime and repair costs.
Unique diaphragm design handles more abrasives with less wear than gear, screw or plunger pumps.
Hydraulically balanced diaphragms to handle high pressures with low stress.
Lower energy costs than centrifugal pumps and other pumping technologies.
Rugged construction for long life with minimal maintenance.
Compact design offers a variety of installation options.
Exceeds API 675 performance standards; models available to meet API 674.
Medium Pressure Pump Models
Q330K Max. 153 gpm (579 l/min) 5247 BPD @ 3000 psi (207 bar)
Q330M Max. 136 gpm (514 l/min) 4664 BPD @ 3500 psi (241 bar)

High Pressure Pump Models
Q330P Max. 118 gpm (446 l/min) 4047 BPD @ 4000 psi (276 bar)
Q330Q Max. 104 gpm (393 l/min) 3567 BPD @ 4500 psi (310 bar)
Additional Specifications:
Maximum Inlet Pressure: 500 psi (34 bar)
Operating Temperature: 40°F to 180°F (4.4°C to 82.2°C)
Nickel Aluminum Bronze (NAB) pump head material
Available with steel NPT threaded ports, weld neck steel (including 316L SST), or ANSI flange ports (steel and 316L SST).
Variety of diaphragm, valve materials, and actuating oils available to meet specific applications.