Peristaltic Pump for Heavy Duty Ind. Applications
Featured Product from Wanner Engineering, Inc.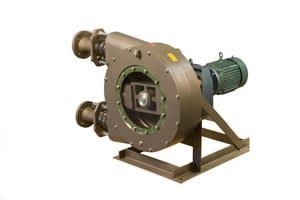 Vector's peristaltic pump improves on the industry standard for hose life with its unique roller designs. These advanced roller designs require less starting torque and result in less hose abrasion than the typical pressure-shoe designs. Vector's heavy duty industrial pumps can handle water-thin fluid to extremely abrasive slurries with ease and the externally lubricated hose allows indefinite run-dry operation without stalling, reducing pump life or causing pump failure.
Many hose material options are available to pump corrosive acids, caustics, inks, dyes, paints, adhesives, hydrocarbons and other difficult-to-handle fluids. Vector's self-priming capability up to a 29-foot lift eliminates the need for flooded suctions or foot valves.
Vector Pump Features:
Can run dry indefinitely without stalling, reducing pump life or causing pump failure - externally lubricated
Sealless - no valves to clog and no seals, packing to leak
Can handle solids up to 2.5 inches (63.5 mm) in diameter
Gentle pumping action - does not shear or foam pumpage
10 models offering a flow range of 0.1 to 200 GPM (0.38 to 737.1 LPM)
High pressures to 200 PSI (14 BAR)
Can handle fluids with temperatures up to 185° F (85° C)
Available hose materials - Silicone, Varprene, Nitrile, Natural Rubber, Pharmed, Hypalon, EPDM and Neoprene
Self-priming up to 29-foot lift (26 inches Hg vacuum)
Virtually maintenance-free - simply replace hose as needed
Vector'sunique design ensures a longer working life with less downtime than standard peristaltic pumps!
When we say "Simply Built to Last", we mean it!
Wanner Engineering understands the need to keep plant and equipment running day after day without interruption. Hydra-Cell Heavy Duty Pumps are designed and built, above all else, for precise performance and long life.