Oil & Gas Packing-free Triplex Pumps
Product Announcement from Wanner Engineering, Inc.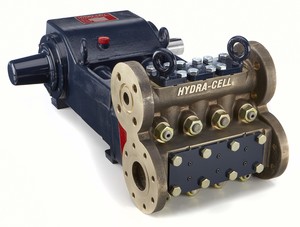 The award winning T80 Series packing-free triplex pumps from Wanner Engineering are seal-less diaphragm pumps designed to replace packed plunger pumps and have the ability to run dry without damage, operate with a closed or blocked suction line and effectively pump abrasive fluids.
The award-winning technology of the T80 Series pumps allows them to compete with traditional plunger pumps in performance and cost, while eliminating packing and plunger wear, leakage, external lubrication and emissions - resulting in lower costs of ownership and maintenance and longer life than their packed counterparts.
T80 Series models include:
T8045, the first in this series of pumps, has a flow rate of 1500 BPD (45 gpm) at a pressure of 3000 PSI.
T8030 (1000 BPD at 4500 PSI)
We understand the need to keep equipment running without interuption. Hydra-Cell Pumps have proven their performance and reliability in some of the toughest applications. In addition to the T80 Series, Wanner Engineering offers a "pulse-free" line of metering pumps and process pumps.
Be sure to contact Wanner Engineering today to discuss your specific diaphragm pump application!
---