See Video - Run Dry, Seal-less Flow Pumps
Featured Product from Wanner Engineering, Inc.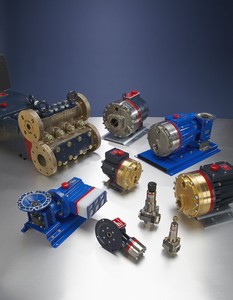 Hydra-Cell's unique seal-less, hydraulically-balanced diaphragm pumps provide the perfect answer to your pumping needs. From abrasive to non-lubricating fluids, Hydra-Cell pumps feature non-pulsing flow for accuracy, linearity and repeatability, can run dry without damage and provide phenomenal energy and maintenance savings.
Tired of packing adjustments and wear? Done with mechanical seal failures? Consider Hydra-Cell's family of seal-less pumps. With models ranging up to 45 gpm and up to 4500 psi, Hydra-Cell can fulfill your pumping needs whether you require a metering pump that exceeds API 675 performance standards or the first packing-free high-pressure triplex pump.
Hydra-Cell pumps also offer higher efficiencies and lower costs of ownership than most other pump technologies. And, with a small footprint, Hydra-Cell saves valuable space and is less expensive to maintain.
Unlike many other types of pumps, Hydra-Cell's unique horizontal disc valves can handle up to 800 micron particulates, depending on the model. With successful applications in markets that include:
Oil & Gas
Chemical Processing
Machine Tool Coolant
Pulp & Paper
Reverse Osmosis
Polyurethane
(and many, many more!)
...you'll find Hydra-Cell replacing other pump technologies for over 40 years. And they are designed and built in the USA. Hydra-Cell Heavy Duty Pumps have proven their performance and reliability in some of the toughest industrial equipment and process applications.
Contact us today to start saving time and money on your pumping needs!