See Video of Pulse-less Metering Pump
Featured Product from Wanner Engineering, Inc.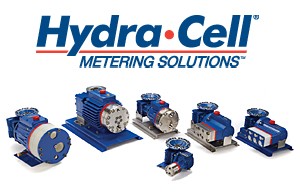 Hydra-Cell's multiple diaphragm design has revolutionized the metering pump industry by providing linear, "pulse-less" flow. Hydra-Cell Metering Solutions Pumps eliminate the need for costly pulsation dampeners while improving accuracy and reliability. Linear flow technology not only eliminates the costs associated with dampening but also improves upon API 675 performance standards.
The compact design of the Hydra-Cell Metering Solutions Pumps systems saves valuable space and allows for ease of installation and reduced maintenance expenses.
Unlike traditional metering pumps that rely on manual stroke adjustment, the Hydra-Cell metering pumps utilize the latest variable speed drive technology that results in rapid response to changing flows and less chance of operator error.
To meet the specific requirements of the metering industry, our pumps are unparalled in their precise performance for delivery of coatings in the paper industry, dosing chemicals in the water/wastewater market, and many others. Hydra-Cell Solutions now take our pumps to a new level of system simplicity, efficiency and electronic control.
Hydra-Cell Metering Performance Features:
Precise, steady-state accuracy of ±1% or better
Repeatability of ±3% or better
Linearity of ±3% or better
Flow rates from 0 to 2100 GPH/7950 LPH; pressures to 2500 PSI/170 BAR
High volumetric efficiencies - low power consumption
Wide choice of materials of construction for pump heads, diaphragms and valve assemblies
Capable of metering viscous slurries
Seal-less design - can pump solids in suspension
Can run dry!
Heavy-duty industrial construction for long service life in harsh conditions
Hydraulically-balanced, unstressed diaphragms
Hydra-Cell Metering Pumps build on our industry hallmark Hydra-Cell pump technology with thirty plus years of proven performance and reliability in the toughest industrial equipment, process and metering applications.
Be sure to contact Hydra-Cell today to discuss your specific metering pump application.