Abrasive lime slurry pump for Pulp & Paper plants
Product Announcement from Watson Marlow Pumps Group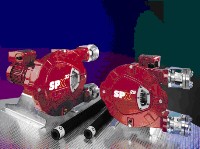 Watson-Marlow Pumps Group, the leading manufacturer of peristaltic pumps, offers the heavy-duty SPX pump for abrasive lime slurry in pulp and paper processing applications. The SPX pump operates with no valves or seals in the product stream, reducing maintenance downtime resulting in profitable production. Advanced hose technology enables the SPX pump to reliably pump hard-to-handle viscous, corrosive and abrasive fluids.
The SPX pump allows for uninterrupted paper production by eliminating the need for seals or valves that can clog, leak or corrode to create unwanted maintenance costs and production downtime. With the SPX design, pumped material only comes into contact with the hose, leading to longer pump life. Additionally, hose replacement is quick and easy due to a self-loading design. Unlike other pump types, the SPX pump life is unaffected by the highly abrasive nature of lime slurries. The combination of these features makes the SPX an enduring solution for challenging pulp and paper applications such as coating, green liquor and black liquor soap, alum, latex, glue, acids and alkalis, polymer, ink, kaolin, lime slurry, and titanium dioxide
Every Watson-Marlow peristaltic pump is an inherent metering pump with repeatability at 99.5%. Many models include integral digital drives and displays in washdown enclosures. These self-priming pumps accommodate flow rates from 0.1 microlitre to 350 gpm, and are extremely durable by withstanding pressures up to 232 psi. There are no internal universal joints, valves, dead corners, or glands to impede flow, and these pumps are reversible for back flushing lines. They can also run dry indefinitely without damage and provide up to a 30' suction lift.
---