Attend Smarter, Safer Hot Water Webinar: ASPE CEU
Featured Product from Watts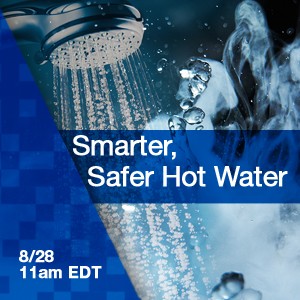 Digital mixing valves enable engineers, designers, and facility managers to directly measure, monitor, and deliver safer hot water systems more easily and more efficiently than ever before. Digital mixing valves deliver mixed water throughout a hot water recirculation loop while allowing facility managers to remotely monitor and control water temperatures.
Sign up for our Smarter, Safer Hot Water webinar, part of our Engineer Webinar Series, to:
Discuss digital advances in water mixing and recirculation stations
Learn how to minimize the risk of water-borne bacteria in high-performance commercial facilities
Understand the behavior of POD (Point of Distribution) and POU (Point of Use) mixing valves in a domestic hot water system.
Join us Thursday, August 28, at 11am EDT for the Smarter, Safer Hot Water webinar. By attending the entire webcast, attendees can receive 0.1 Continuing Education Units (CEUs) through the American Society of Plumbing Engineers (ASPE).