Backflow Webinar Recording Now Available
Featured Product from Watts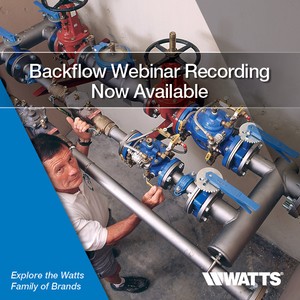 Listen to our webinar Cross-Connection Control & Backflow Prevention to make sure your buildings provide safe drinking water from the point of treatment to the point of use. You can now access a recording of the webinar at your convenience and get the answers to questions that will help you make informed decisions:
What is the potential for backpressure?
Is exposure to health or non-health Hazard?
Will the application need 24/7/365 continuous pressure?
What is the orientation needed for your project?
You will also learn how different backflow preventer products and accessories work in order to select the right ones for different types of backflow risks.
The webinar addresses:
Cross-connection control programs and their importance to total backflow protection
Backflow preventer selection criteria
Typical faults and failures
Typical troubleshooting and maintenance solutions