Control Legionella Outbreaks: Take the CE Course
Featured Product from Watts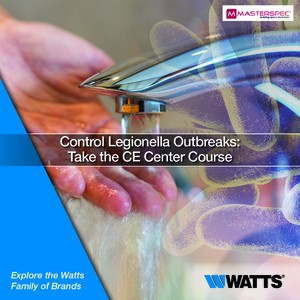 Outbreaks of legionella bacteria can cause Legionnaires' disease (LD) in any setting, but is a particular concern in healthcare facilities and hospitality buildings. The bacteria can grow in any part of a water system in a building that is continually wet such as tanks, piping, fixtures, or water features and becomes an infectant when combined with water droplets that become airborne in a manner of aerosol generation.
Take the Architectural Record and CE Center course, Solutions to Help Control Legionella, to:
Identify and recognize the conditions that contribute to the development and growth of legionella in buildings.
Investigate the importance and makeup of a water management program as identified in ASHRAE 188.
Assess the solutions available to address legionella in water systems, including those that rely on heat, chemicals, or other means.
Describe the pros and cons of different water quality solutions that can be effective at reducing legionella outbreaks.
The CDC has recorded anywhere between 8,000 – 18,000 cases annually since the year 2000, with a 400 percent increase in infections from 2000-2014. This is a serious health concern that comes with a significant price tag, but there are preventative steps you can take today to ensure your facility is safe.
Request a quote for one of our legionella solutions.
If you have any questions or would like more information, please let us know!