Digital Mixing Stations: Take the CE Course
Featured Product from Watts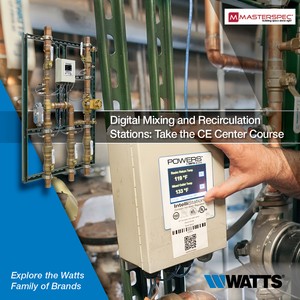 Digital mixing and recirculation systems are smart water delivery solutions for mixing domestic water in a hot water recirculation loop. These systems are typically used in commercial and institutional facilities and can be integrated into a building automation system (BAS).
Take the Architectural Record and CE Center course, Smarter, Safer Hot Water: Digital Thermostatic Mixing Stations, to:
Identify the challenges and dangers inherent to hot water delivery systems in buildings.
Discuss digital advances and water mixing and recirculation stations that maximize burn protection while minimizing the health risks for water borne bacteria in high performance commercial and institutional facilities.
Review components and codes that determine performance standards for a safe and efficient hot water delivery system.
Specify an integrated hot water delivery system that can be tied into a building automation system to meet green codes for measurement and verification.
The plumbing system is the one component of buildings that directly affects public health. There are many challenges when considering the overall integration of internal systems in sustainable high-performance buildings. Digital mixing and recirculation stations conserve water, save energy, prevent hot water burns, and help minimize the occurrence of Legionella in tempered water delivery systems.
Request a quote of one of our digital mixing solutions.
If you have any questions or would like more information, please let us know!