Earn ASPE CEU: Intelligent Scale Solution Webinar
Featured Product from Watts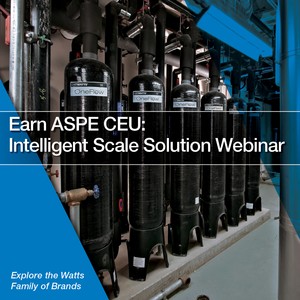 To protect reclaimed water, some states are restricting the use of traditional water softeners as they require the constant use of chemicals, sodium, and chloride that harm the environment. Template Assisted Crystallization (TAC) is a scale control technology tested and proven to continually outperform other scale control processes without the negative environmental impacts.
Sign up for the Intelligent Scale Solution Webinar to:
Define a sustainable approach to water quality management using a template-assisted crystallization (TAC) water conditioner.
Discuss the environmental problems of water softeners, particularly the issues of using salt as a regenerating agent and the water that is discharged as a result of the regenerating cycle.
Explain the detrimental and beneficial mineral components of water from both natural and treated water sources that can reduce energy efficiency and durability of plumbing fixtures and mechanical equipment.
Integrate the components of an environmentally beneficial water system from water source to water waste to improve community water quality.
Watts will broadcast a live webinar, the Intelligent Scale Solution, at 2pm EST on June 26. The webcast will be presented by Peter Hewitt, Head of OneFlow Solutions at Watts. By attending the entire webcast, attendees can receive 0.1 Continuing Education Units (CEUs) through the American Society of Plumbing Engineers (ASPE).