Earn ASPE CEU in Snow Melting Solutions Webinar
Featured Product from Watts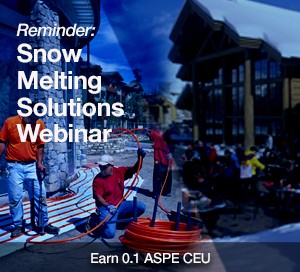 Say goodbye to applying salt and other harmful chemicals to your driveways and walkways in the freezing cold. Snow melting systems are becoming more popular in today's homes and businesses as a convenient & cost effective method of automatically clearing snow and ice from surfaces to increase safety for.
Sign up for the Snow Melting Solutions Webinar to:
Learn how snow melting systems minimize the risks of liability due to personal injuries and damage to the surfaces of driveway, walkways, entrances, etc. themselves.
Learn how snow melting systems eliminate the need for labor intensive snow removal, shoveling, and salting.
Learn how snow melting systems can be engineered to meet the needs of a small or large area in weather conditions ranging from mild to extreme
Understand the cost advantages of snow melting vs. mechanical removal as well as the importance and factors of snow melting designs.
Watts will broadcast a live webcast, Snow Melting Solutions, at 2pm on July 30. The webinar will be presented by Kolyn Marshall, Systems Engineering Manager at Watts. By attending the entire webcast, attendees can receive 0.1 Continuing Education Units (CEUs) through the American Society of Plumbing Engineers (ASPE).