Earn CEU Credit: Water Quality in Health-care
Featured Product from Watts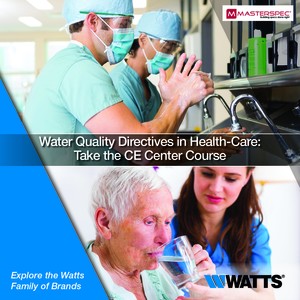 From patient rooms to staff sink/scrub areas and labs, water quality is imperative for all in a health-care setting. Water also drives many of the mechanical systems within the facility, including HVAC systems, fire protection, and domestic water systems. If not properly managed, all of this water is at risk of being a prime breeding ground for bacteria and disease, including one of the most troubling pathogens known as legionella bacteria.
Take the Architectural Record and CE Center course, Meeting New Water Quality Mandates in Health-Care Settings, to:
Identify and recognize the conditions that contribute to the development and growth of legionella in health-care facilities.
Investigate the requirements of ASHRAE 188 and the new DHHS policy memorandum related to water quality in health-care settings to reduce the risk of Legionnaires' disease.
Assess the potential ways to address legionella in water supply, distribution, and drainage systems in health care.
Specify products that can contribute to compliance with water quality requirements contained in the DHHS policy memorandum and ASHRAE 188.
Everyone who works or visits a health-care facility has one ultimate goal: the overall satisfaction of the patient. This course will teach you everything there is to know about risks, products, and new standards to ensure your facility is clear of water-borne bacteria such as Legionella.