Hydraulics of Backflow Detector Assemblies Webinar
Featured Product from Watts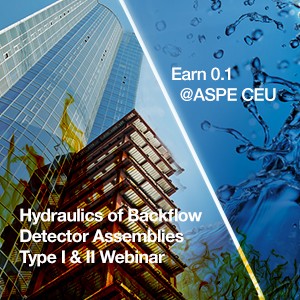 Fire connections were among the last to add backflow prevention. In fact, several parts of the country still don't have backflow preventers. When water authorities began mandating the installation of backflow preventers on fire connections, they wanted a way to detect the loss of water in unmetered connections to keep track of water being used to put out fires, resulting in the approval and use of detector assemblies. Recently, feedback from the fire protection industry has led to the development of a new kind of detector assembly – the Type II.
Join us Tuesday, October 29 @ 11am EST to learn:
The history of Backflow innovation, detectors, standards, and codes
Basic hydraulic principles of DC, DCDA, RP, and RPDA
Advantages of using a Type II Detector Assembly
Code compliance and testing of Type II assemblies
What's in It For You?
By attending this webinar, attendees can receive 0.1 Continuing Education Units (CEUs) through the American Society of Plumbing Engineers (ASPE).