Produce Customized Specifications: ATS Spec Tool
Featured Product from Watts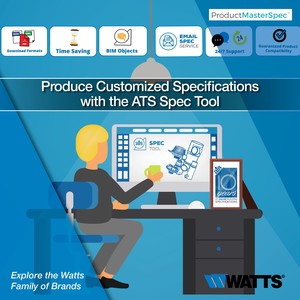 Watts has been a proud sponsor of Allied Technical Solutions (ATS) for over 7 years. For engineers, ATS' directive is to generate specification demand for Watts products leveraging technology and developing system-based solutions for our Sponsors. Support to drive demand is accomplished through specification services, on-line project configurators, and complete cross-reference tools through our ATS Spec Tool.
The ATS Spec Tool is the time-saving, Specification Information System that directly connects the Design community and their building spec requirements with Watts products. With this tool, designers are able to custom specify plumbing fixtures, mechanical equipment and drainage specialties, accessories, and interior and exterior cladding.
To learn more about how we support design engineers, including ATS Spec Solutions, please visit our Planning page.
If you have any questions or would like more information, please let us know!