Reducing Scale Mitigates Legionella Risk
Featured Product from Watts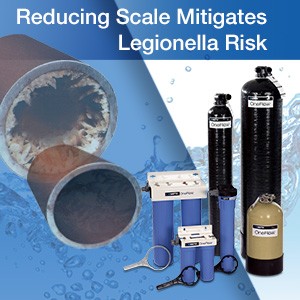 The OneFlow scale reducing solution uses template-assisted crystallization (TAC) technology to protect pipes, plumbing components, and appliances from the negative effects of hard water. By limiting the buildup of scale in pipes and valves, it reduces nourishment to Legionella and possibly helps other solutions for mitigating Legionella risk work more efficiently and effectively.
Features:
Prevention of mineral build-up inside pipes, fixtures and appliances
Does not require salt, chemicals, or electricity
Has no regeneration cycle to flush water down the drain
For saving space, OneFlow solutions that combine TAC with water filtration systems are available.
Learn how OneFlow reduces scale, making a plumbing environment less hospitable to the growth of the Legionella and other waterborne pathogens.