Selexit™ and GO!
Featured Product from Watts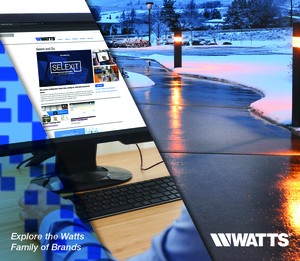 The Watts® Selexit™ Configurator is an online tool designed to help specifying engineers, architects and project managers size and configure complete hydronic and electric snow melting systems faster and more easily than ever before. Selexit also makes it easy to view and share your configuration results for collaboration, pricing and downloading.
Visit our Selexit and Go page.
Within minutes, Selexit produces:
Professional specifications
Bill of materials
Project proposal complete with budget pricing
We build tools to help streamline and accelerate your work. Selexit is the first and only online platform that can generate precise, optimal Watts system configurations, and it's the quickest way to size and configure complete hydronic snow melting systems.